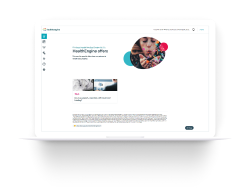 Display Sponsorship
Practice Offer
Display Sponsorship
Patient Offer
Email Database
Newsletter EDM – Health Consumers
Description
This is native / inline display tile served within Practice Admin that links to a dedicated Healthengine hosted partner landing page providing rich information on the products and or services driving a redeem offer, transaction or enquiry call to action.
Creative
Header/Hero Image:
Width: 1440px
Height: 400px
Logo:
Height: min 48 px
Orientation: Landscape only
Sile format: SVG (recommended), PNG, JPG
Note: the logo image must have a white or transparent background
Headline:
Product Image (optional):
Width: min 343 px
Height: min 240 px
Sub Header:
Use the subheader to expand on the headline but in a way that summarises what the offer is about to the viewer
Body Text:
1 paragraph
200 characters
Highlight Images and Text:
Highlight 3 compelling aspects to your offer, service or product to our users
Highlight Headers: 52 max characters
Highlight Body: 180 max characters
Highlight Images:
Width: min 170 px
Height: min 170 px
Purpose
Allows partners to engage Healthengine's Practice community with health relevant products and services that assist health providers to deliver better care or drive practice efficiency. Opportunity for partners across key verticals such as Training & Education, Recruitment & Employment Services, Finance, Insurances, Legal, Practice Design & Fitout, Medical Equipment to engage with relevant practice stakeholders driving a redeem offer, transaction or enquiry call to action.
Pricing
Sponsorship: $7,500 per month plus GST
Advertise with us
Privacy Statement
We care about the privacy of all patients utilising the HealthEngine website and apps, and do not provide patient, professional or practice details to third parties without explicit permission. Please read our Privacy Policy or Contact Us for further information.