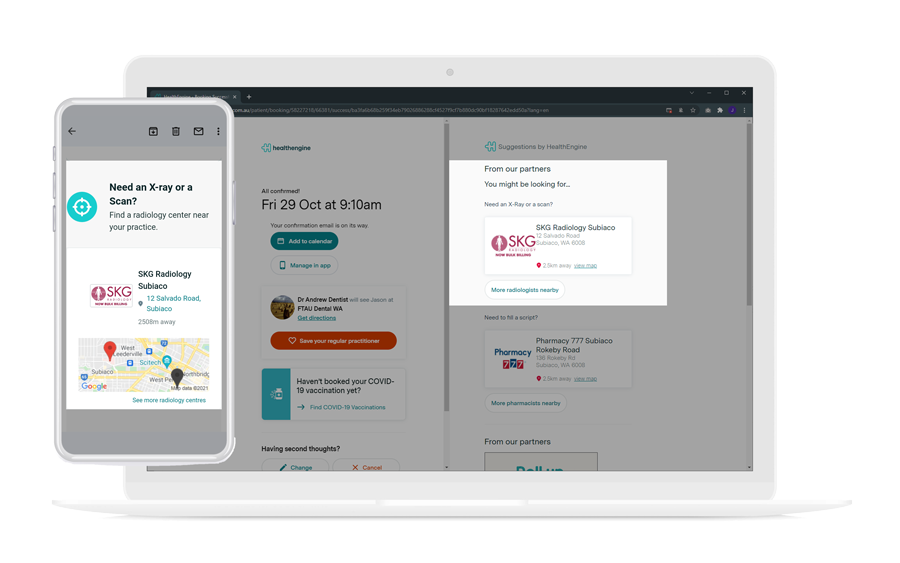 Display Ads
Featured Nearby (Booking)
Display Ads
MREC (Booking)
Display Sponsorship
Patient Offer
Description
This is native / inline display ad inventory appearing on all Booking Confirmation and Reminder patient communication to educate the consumer of the featured nearby clinic or store. Promotes partners Brand / Logo, Street Address, distance from their current attended practice and Geo location mapping to drive immediate foot traffic. You will also have a dedicated Patient Connect Profile house within our network, detailing all of your relevant services, contact information, staff, opening hours and more.
These can be set up to be filtered / served based on:
Speciality (GP, Dental, Chiro, Physio etc)
Postcode targeting
Creative
The creative will be served as a static image on the Booking confirmation and Reminder email including:
Company Logo
Street Address and Distance between Pharmacy/Radiology Centre and Practice
Link to Geo Mapping
To be provided at least 10 days prior to campaign commencement
Purpose
Allows post GP relevant consumer Health Services such as Pharmacy and Radiology to engage patients within the immediate postcode of the store or clinic with multiple frequency during the appointment booking confirmation and reminder journey. With 74% of consumers requiring a pharmacy for script fulfillment / purchase a recommended product and 16% requiring a radiology clinic for imaging services this product provides significant value to both the consumer and partner based on geo location relevance.
Pricing
Cost Per Sponsored Booking – $0.10 plus GST
Advertise with us
Privacy Statement
We care about the privacy of all patients utilising the HealthEngine website and apps, and do not provide patient, professional or practice details to third parties without explicit permission. Please read our Privacy Policy or Contact Us for further information.