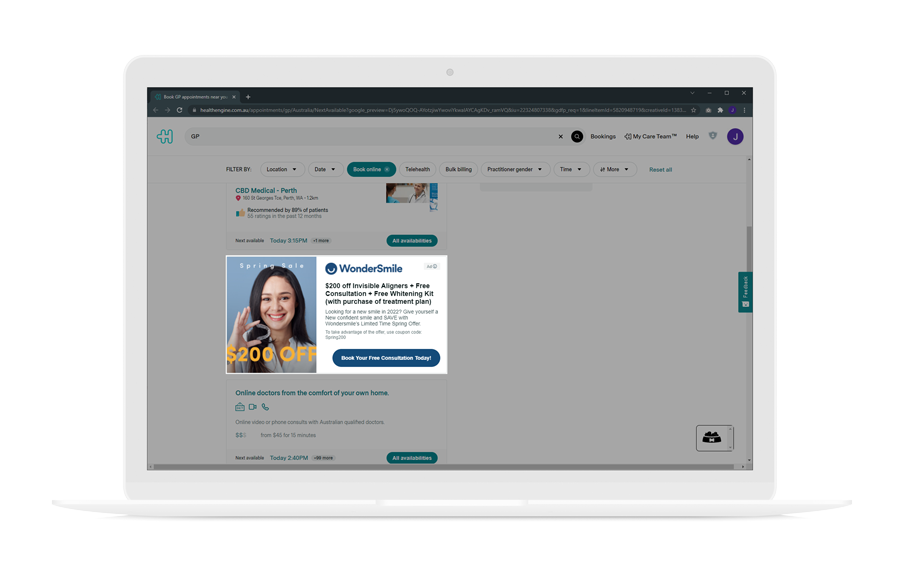 Display Ads
Native Leaderboard (Search)
Display Ads
MREC (Booking)
Description
Generate new leads and maximize brand awareness with Native Leaderboard ads displayed in Healthengine search results. This unique ad space allows you to deliver brand messaging to health consumers (patients) while they are actively searching for healthcare.
Native Leaderboard ads appear inline with listings of health practices when a user searches for a nearby appointment. This placement naturally flows with on-page behavior of health consumers visiting the platform to deliver optimal engagement.
Align your ad creative and value proposition to target a health vertical or specialty. This refined targeting allows advertisers to increase ad relevancy and improve campaign performance. There are two positions sold per month for this exclusive ad space.
Targeting Options:
Target verticals for General Practitioners (GPs), Dentists, Allied Health providers, or Specialists.
Target specialties. Healthengine has 355 listed health specialties ranging from Acupuncture to Women's Health.
Location based targeting. Refine your audience with geographic targeting for state or postcode.
Ad Creative Specifications:
Healthengine requires three different image sizes for the native leaderboard. This accommodates responsive display on desktop, tablet, and mobile devices. Please provide all of the creative elements listed below to publish one native leaderboard ad.
Logo

(left aligned) supplied in JPG, PNG, EPS format.

Desktop image

at 240px (width) by 210px (height)

Mobile image 1

at 420px (width) by 150px (height)

Mobile image 2

at 320px (width) by 150px (height)

Headline

with maximum of 40 characters.

Body text

with maximum of 150 characters.

Small print text

with maximum of 50 characters.

Call to action

button text with maximum of 30 characters.

External URL

link to relevant landing page.
Creative
Static images only.
Maximum image file size of 80KB.
Assets to be provided at least 5 days prior to campaign commencement.
Ad creative must adhere to Healthengine requirements.
Purpose
Serve highly relevant display ads to Healthengine consumers while they are actively searching for healthcare.
Pricing
Native Leaderboard – $30 CPM plus GST
Advertise with us
Privacy Statement
We care about the privacy of all patients utilising the HealthEngine website and apps, and do not provide patient, professional or practice details to third parties without explicit permission. Please read our Privacy Policy or Contact Us for further information.